Are you still unsure about how Trustmary could help your business?
Trustmary helps you to
gather reviews,
showcase them on your website,
find out the best way to use reviews, and
test which reviews lead to the best results.
Our current customers have noticed significant benefits after implementing reviews on their websites. The A/B tests we have conducted show the same results.
The testing feature has so far been part of our BETA program, which clients could sign up for voluntarily.
In the program, we use A/B testing to determine which Trustmary's widgets get the best results on your website.
One of the successful clients is Kattotutka, a Finnish family business that specializes in roofing and has been in business for almost 30 years.
The company wants its website to be as user-friendly as possible, so it decided to test how reviews affect the number of new contact requests.
The Kattotutka case showed that adding a review pop-up on the website led to many new contact requests from potential customers.
A/B Testing Basics
A/B testing is a method for comparing two versions of one web page and seeing which one results in more conversions, like sales or leads.
The website traffic is divided evenly between the two versions. Next, the amount of conversion on each site is tracked. This way we can decide if one page works better than the other.
Conversions can be e.g.
making a purchase,
registration to a product,
subscribing to a newsletter, or
requesting pricing information.
Conversions are most often measured by clicks or form submissions.
Finally, we get a conversion rate that tells how large of a percentage of the visitors completed the desired conversion event.
In this case, the conversion event was sending a contact request.
Result: Over 60% More Contact Requests with A Pop-Up
Kattotutka added an exit-intent pop-up to several pages on the website. The pop-up is triggered when the visitor is about to leave the page.
This pop-up is the last chance to convert potential clients and get them to request more information about the services.
In addition to a call-to-action button ("Request an offer!") and an image, the pop-up displays reviews from previous customers.
The A/B test was done between a pop-up and null, meaning that half of the website visitors saw a pop-up, and half did not.
The results show that the number of contact requests increased when the visitors saw a pop-up.
Kattotutka received over 60% more contact requests with the exit-intent pop-up than without it.
The conversion rate of a page without a pop-up was 0.8%. With the pop-up, the rate was 1.3%.
Even though the numbers look small, the change has a great impact.
If 1.3% out of 1000 website visitors want to hear an offer for a roof renovation, it makes 5 potential projects more than if there was no pop-up on the page.
Depending on the size of the project, it can mean thousands or tens of thousands of euros more sales.
One must consider that exit-intent pop-up captures visitors who were already about to leave the website.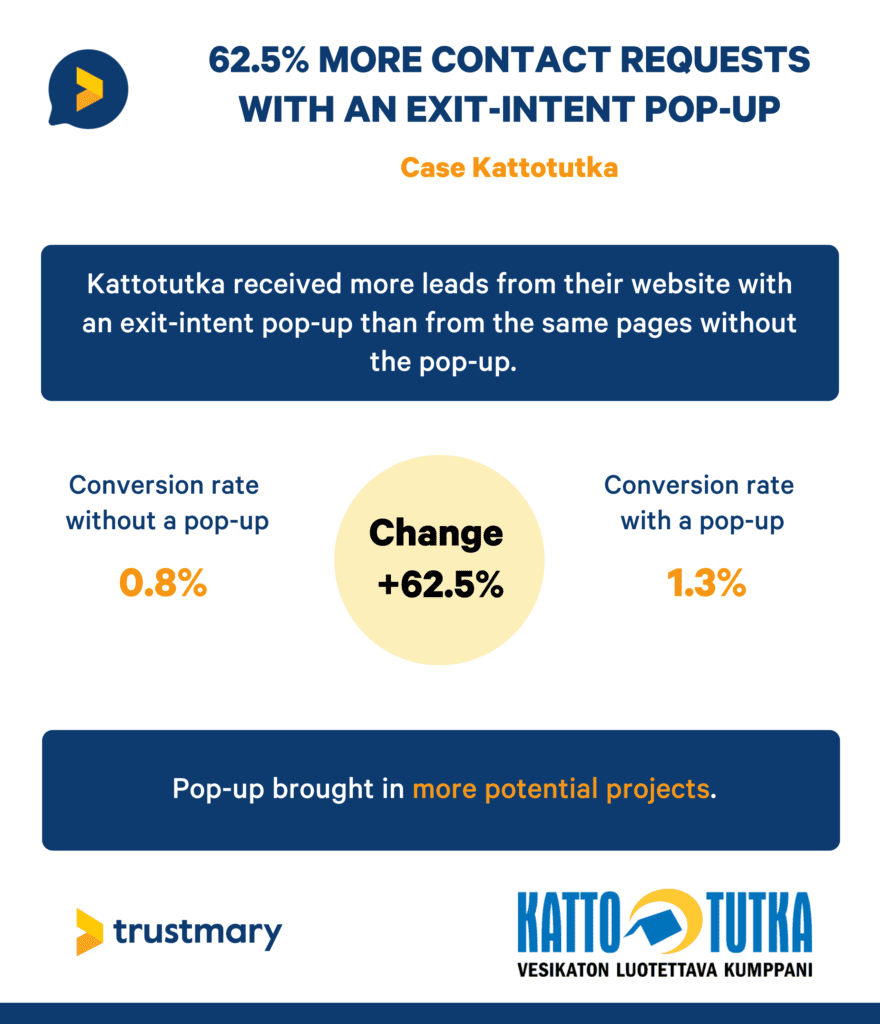 Would you like to learn how Trustmary can help your business?
Kattotutka found out with A/B testing that an exit-intent pop-up helps them get more potential customers.
Would you like to know what Trustmary can do for your business?
In case you are already using Trustmary, reach out to your contact person and we'll start the tests!
If you are not familiar with Trustmary yet, book a meeting with our experts and let's discuss what would work best for you.
See Other Case Stories