2. Google Review Widget Popup: No Code Option
Despite the embed code being very easy, you might want to opt for a no-code-at-all option.
In that case, showcase Google reviews with a popup.
This option requires no HTML code.
BUT! In order for this to work, you need to install a Trustmary tag in the head script of your website. You only need to do it once, so you can simply ask for a web developer to do it for you. After that, you can manage everything on your own.
If you want to skip this part and you are using a WordPress website, check out the next option.
What is a popup?
A popup is a small window that appears on your screen while browsing websites. Usually, they promote something or try to get you to leave your contact information.
Popups are an effective marketing tool. For example, one of our clients experienced a 60% increase in contact requests when they implemented a popup with reviews on their website.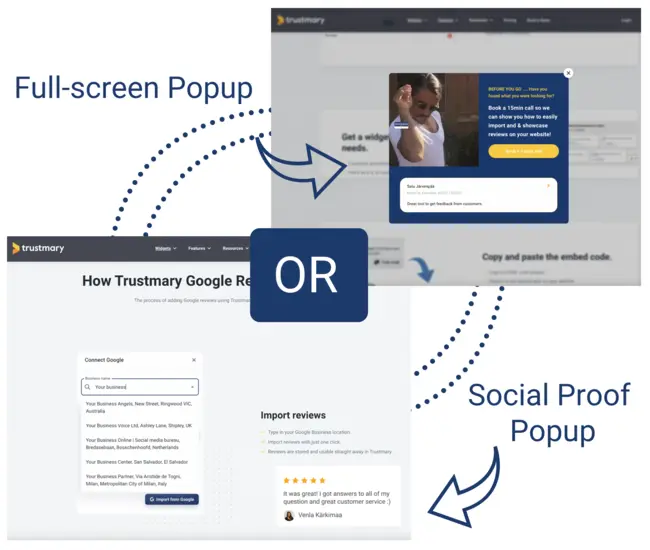 Creating a popup with Trustmary
You can easily create popups in Trustmary by choosing your favorite template and editing it to your liking.
You can modify the colors, and texts, use a CTA button or a lead generation form, and of course display Google reviews for extra effectiveness. All this with an easy drop down menu.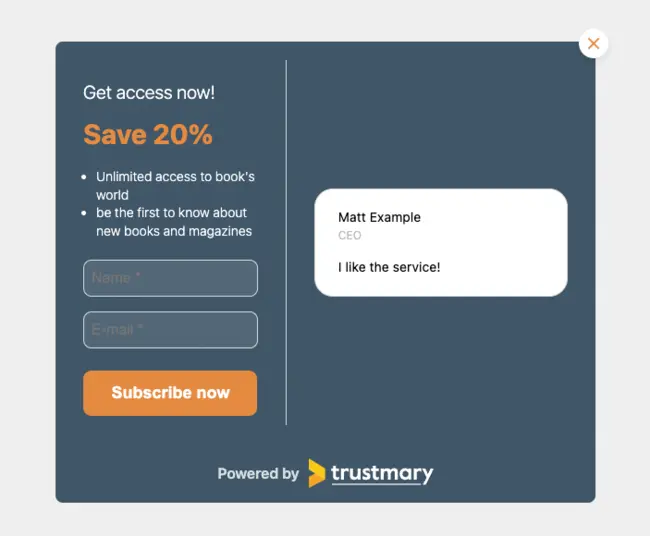 Once you are happy with your design, navigate to "Add to website" and install the Trustmary tag (or ask someone to do it for you).
When the tag is installed, you can add unlimited widgets without having to worry about it again.

Next, go to "Targeting". Here you can choose on which page or pages you want to use the popup.
Simply write in the URL of the page.
If you want to add it to all pages, use the *-wildcard. For example, if I write in trustmary.com/*, the popup will show up on all the pages in the domain.
Another important thing to decide is the trigger when the popup is launched. You can show it immediately after entering the page, after a certain time, after the visitor scrolls down a certain amount of time, or upon exit intent.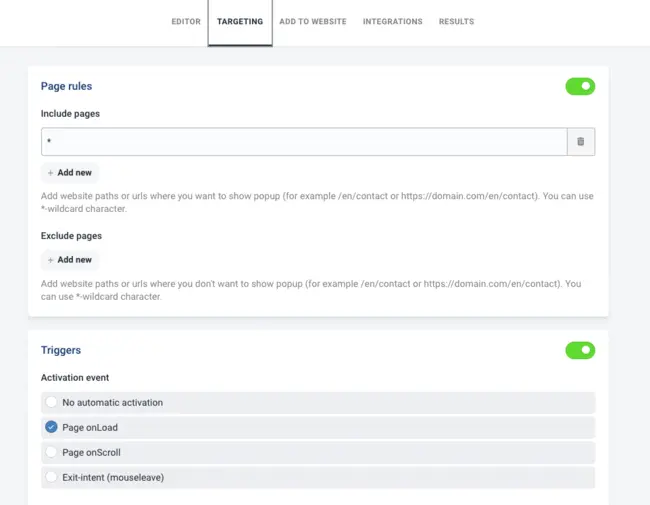 You can configure other settings as well, but it might be difficult to navigate alone without previous experience.
If you want to tap into the great benefits of popups, book a meeting with us and we help you get started.